Synergy Thrislington panel system comprises of pre-fabricated panels with CFC free polyurethane foam 3 at a density of 40+2kg/m as core and with plain ribbed sheeting made out of pre-painted galvanized/galvalume Steel as facing on both sides.
Synergy PUF panel come with standard Tongue & Groove joint and optional cam locks. Synergy PUF panels are manufactured in the most Modern Continuous and Semi Automatic Panel making line and can be supplied in lengths up to any length. Synergy PUF panels are available in a standard width of 1m and in various thickness to the industry requirements. The standard thickness is 30, 40, 50, 60, 80,
100, 120, 150 mm.
Synergy PIR panels system comprises of Pre fabricated panels with CFC free polyisocyanurate Foam at a 3 density of 45+2 kg/m as core and with plain ribbed sheeting made out of pre-painted Galvanized/gal volume Steel as facings on both the sides.
Synergy Prefab structures are made of Continuous Panels (CSP) manufactured off-site in advance at our ISO 9001 : 2008 certified plant, usually in standard sections that can be easily shipped and assembled on site as per customer drawing and specifications. Panels are available with Pre Painted Galvanized Iron (PPGI) sheets, aluminium sheets, SS sheets or as directed.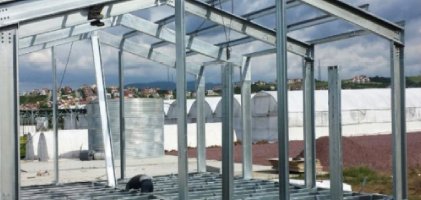 Synergy CFC / HCFC free rigid Polyurethane Foam slab insulation conforms to IS : 12436 & BS 5608. The slabs are made from mixing of polyol & Isocyanurate chemicals with blowing agent suitable for wide temperature range. It has low thermal conductivity, low smoke emission & low vapour permeability making it ideal for building & industrial insulation.
Robust Construction : , & fire retarding structures safe in earthquake prone areas.
 Quick-assembly : Unmatched assembly speed.
Attractive designs : Customized to your need with a beautiful & elegant finish.
 High quality : Robust, durable structures, built to withstand strong winds & snow loads.
Cost Effective : An affordable combination of quality & cost.
Insulation : insulated panels provide good sound proofing and insulation against hot & cold climates.
 Light Structures : Easy to transport & install in remote inaccessible areas including hilly terrains.
Long Life : Once installed will match the life of conventional construction.
Flexibility in Construction : Can also be erected on steel based frameworks, with floorboards, steel deck etc. based on customer requirements.
Density : 40-45 kg / m
Temperature Range : (-) 20 C to (+) 110 C,
2 Compressive Strength : 1.851 Kgf/ cm depends upon thickness PSI /
KGS / cum : 28.5
Fire Property : Self Extinguishing
Tensile Strength : 3.4 Kgf/ cm
Thermal Conductivity : 0.0214 W/ m-k 2
Adhesion Strength : 1.81 Kgf/ cm fire retardent
Absorption : 0.2%
Vapors Permeability: 0.11 gm/ Hr/ Sq.m